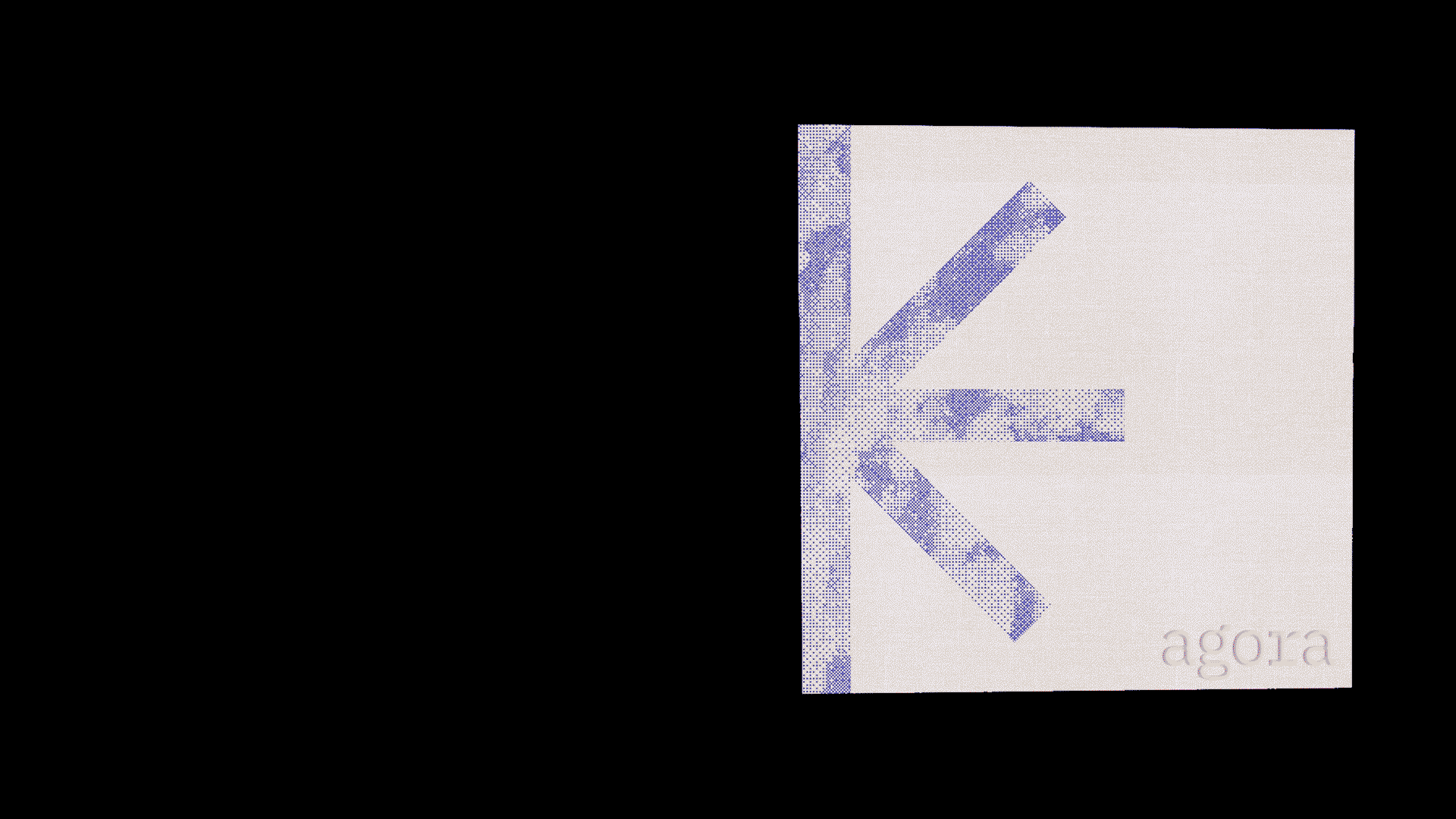 ---
Agora
Thesis

Print Design
Spatial Design
Interaction Design
2021
Mentors: Sean Adams, Samantha Jan Fleming, Carolina Trigo
---

The commodification of Online spaces has led to the dehumanization of users by confusing the delineation between the individual and the brand.


"Consider how the internet is built to distend our sense of identity. How it encourages us to overvalue our opinions. How it maximizes our sense of opposition. How it cheapens our understanding of solidarity. How it destroys our sense of scale."
– Jia Tolentino
There must be a paradigm shift in how the Internet is designed in order to prevent this confusion further.

To solve this I created Agora, a non-monetized social media that is not designed on a digital platform. Inspired by the ancient Athenian Agoras, public spaces designed for discussion and philosophical pursuit.

Agora combines both physical space to build a network, as well as an individual's "Profile Book" which travels between members to discover new people and ideas.
Process Book

Agora is one component of a larger thesis project On Brand: Design Dehumanization and the Internet. This process book outlines the research, development, and design processes that led to Agora's strategy and identity.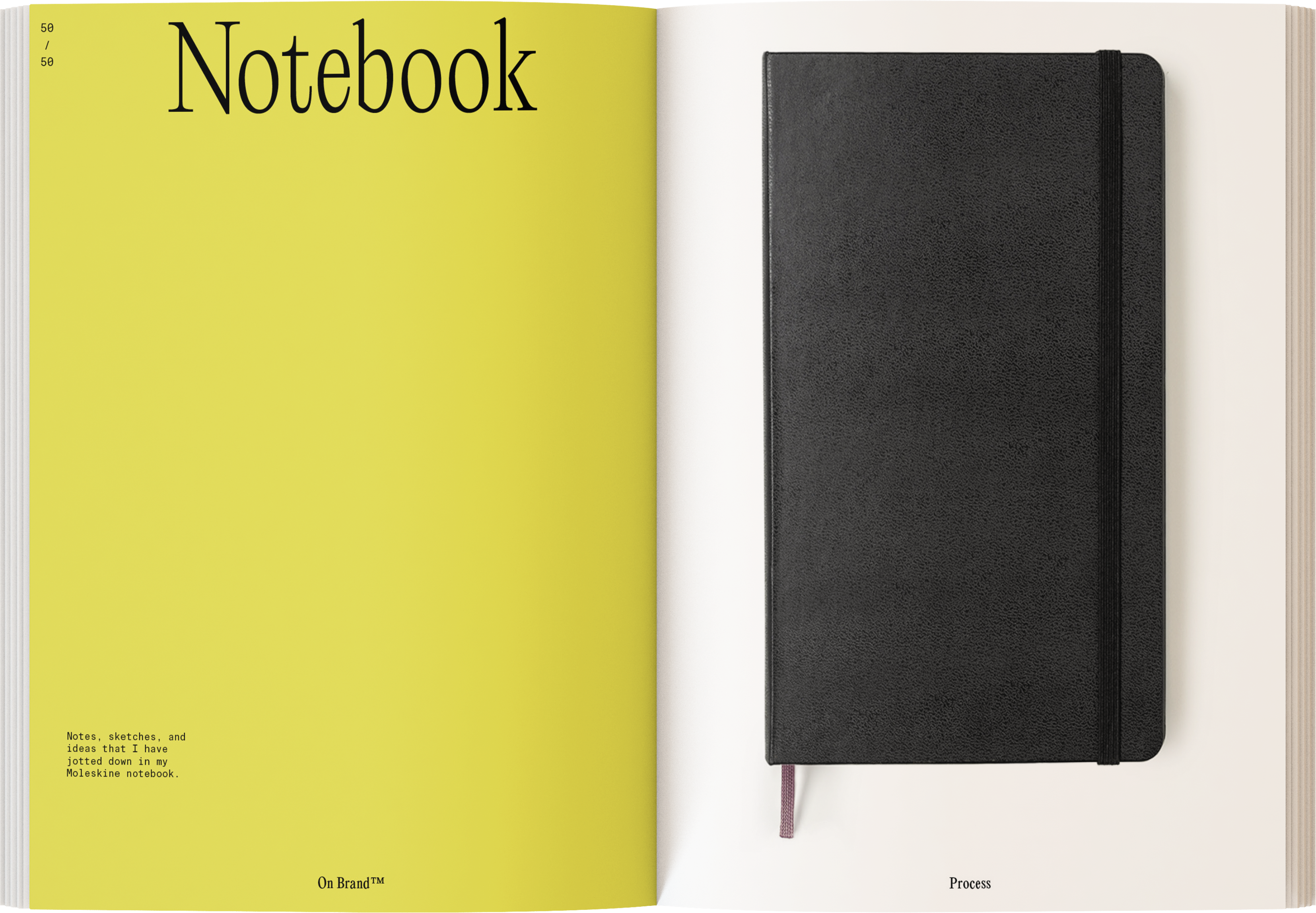 The early research phase consisted of compiling references about the history of branding and internet usage, auditing my own social media presence, and understanding what drives people to commodify themselves online.
Visual development of the brand included an audit of competitors and sketches and ideation of brand assets and products.
Documenting the final identity for Agora, as well as outlining the strategy, user journeys, and finance models.
---
Agora Forum


The spatial area is the primary touchpoint of the Brand. It is where users can go to hang out and engage in conversation. They can only go and talk or not talk. No computers or phones are allowed.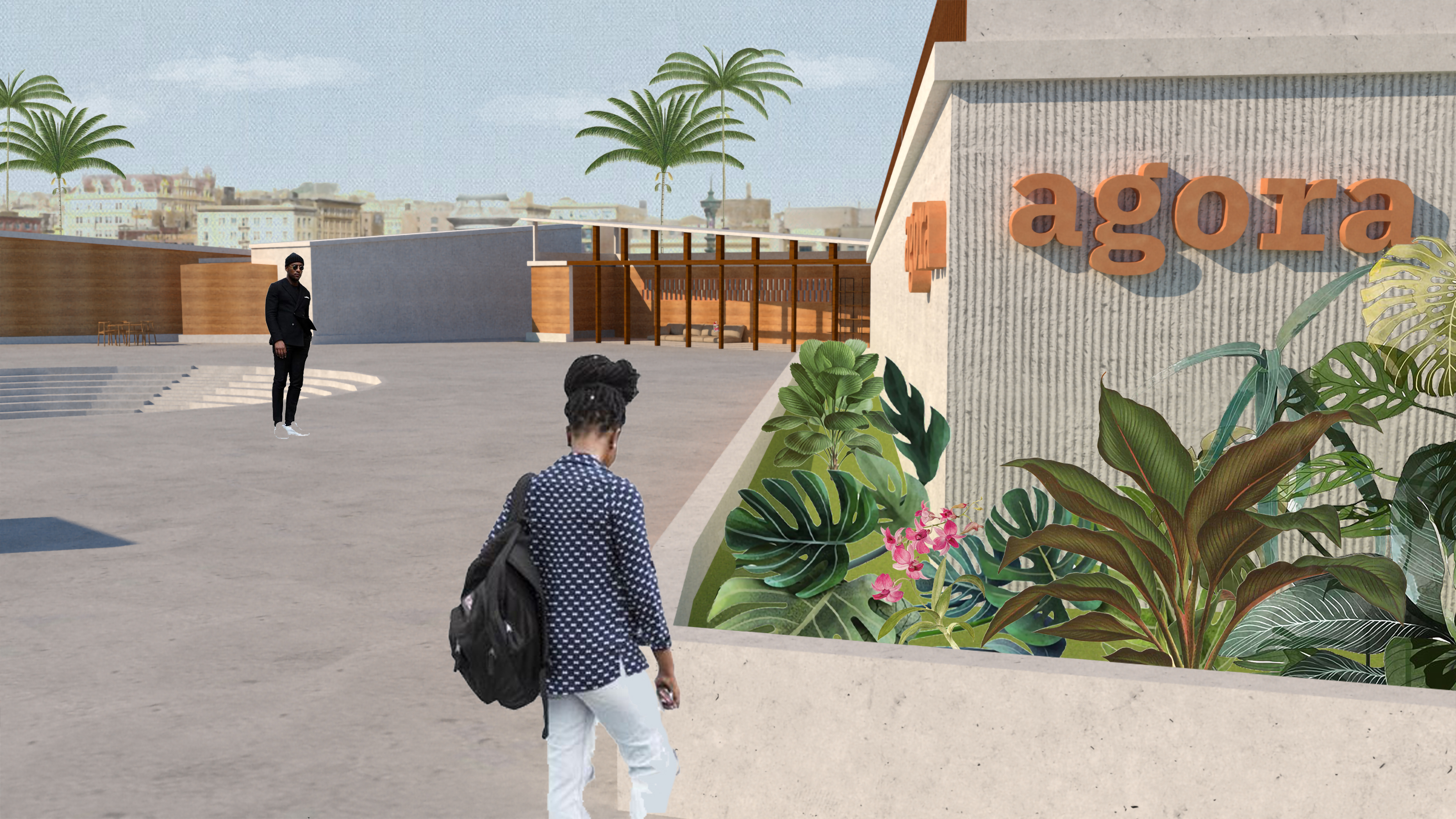 Forums would be located near universities, museums, and libraries allowing for easy access to and from centers of learning.

Upon entering members would see the days events, generated by other members of that forum. Here they can discover what they would choose to engage in for this particular day.

Forums are also completely tech free zones. No phones, or internet accessing devices allows for users to more fully engage in the purpose of the immediacy of the space.
At the center of the the Forum is the amphitheater where discussions, panels, and most community events are based.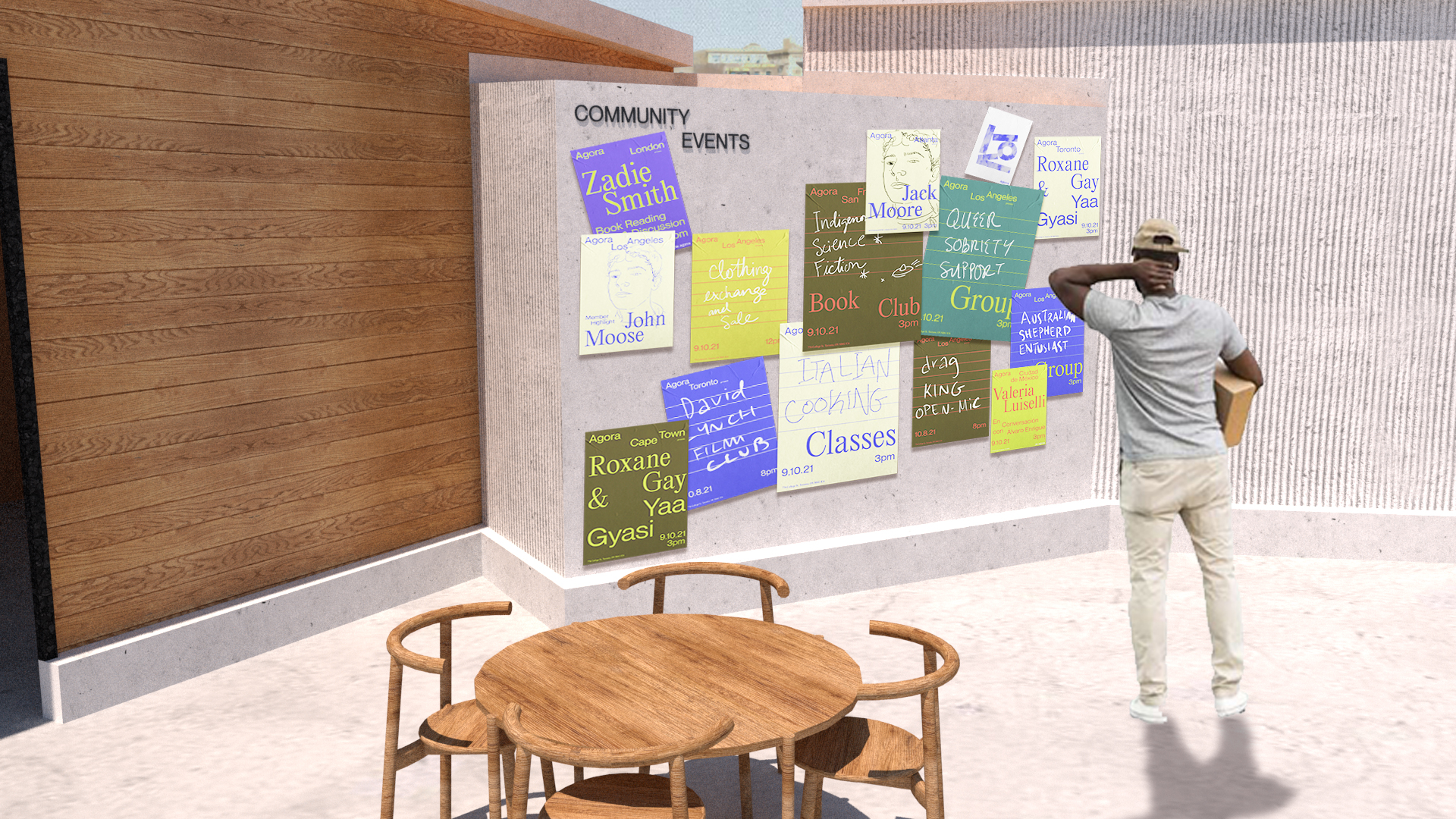 Events for the day are advertised with posters, where individuals can print off templates and fill in their clubs, groups, or events they want to drive traffic to.
Since there is no digital signage and no web presence, print media is the main way for news and events to be disseminated. The forum supplies all the materials needed.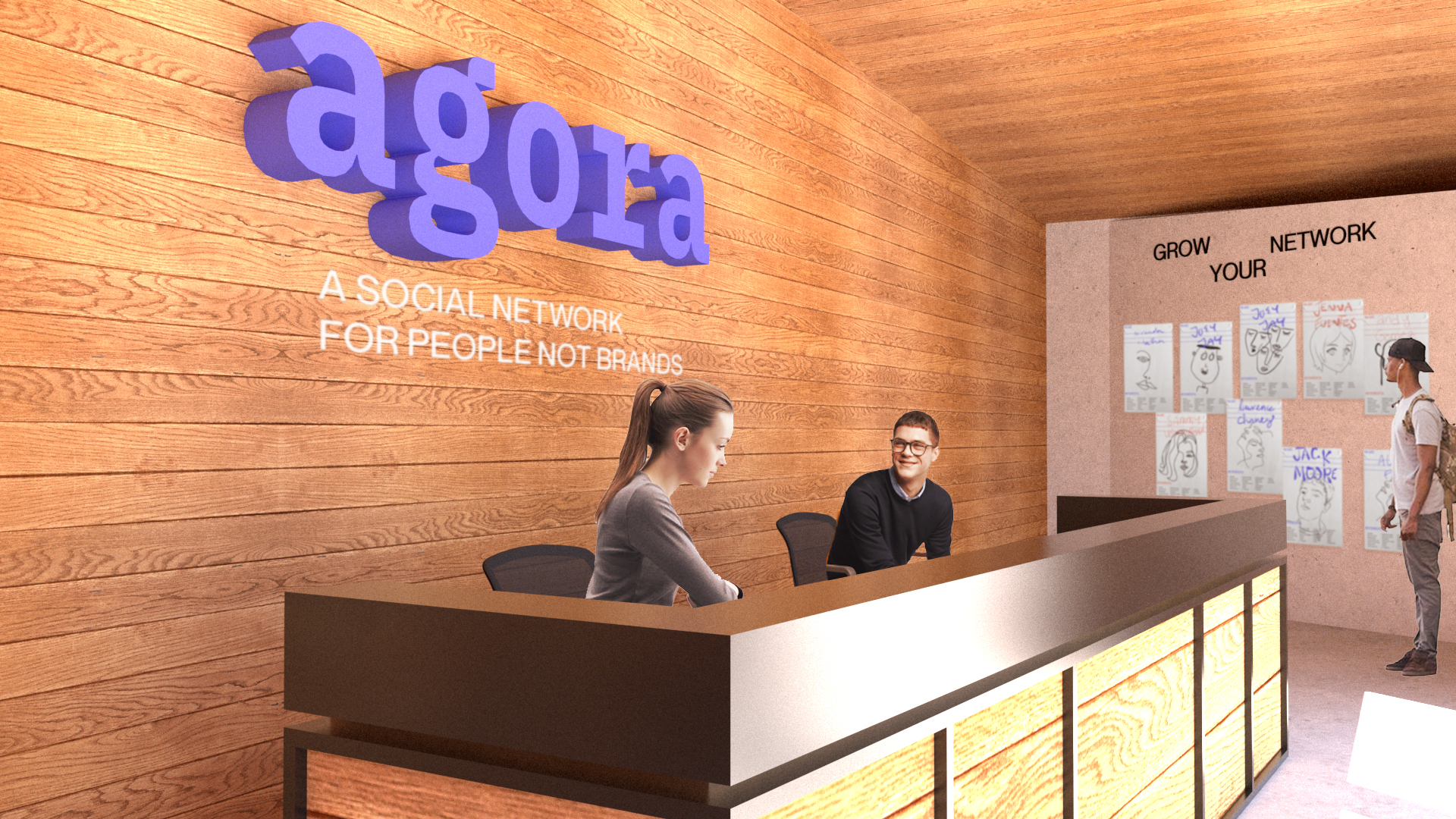 The Forum is also where prospective users go to sign up for an Agora membership. They would go to the registration office to sign up and receive a profile book to start building their network.
The library is where materials are available freely to members, as well as archived Profile Books.
An example of a Film Club organized screening in the Forum's Amphitheater.
---
Profile Book


The Profile Book is a transitory object where people communicate through writing. That is how they get to know each other, learn, and discover.

A person creates their book and it gets sent to people in the network and others with interests similar to them.
Agora is a growing network of individuals and spaces. This map helps users to keep up to date on the closest Agoras to them, and where they can send their book to expand their network.
The Agora Book is bound in a clamshell binder, allowing for. users to add pages and sections to the book as needed, as well as protecting the book while it travels.
The Agora Book gets delivered with all onboarding materials for new members.
The code of conduct and anti-harassment guidelines for Agora are front and center in the book to ensure inclusivity, and non-toxic interactions between users.
The Intro section is where users fill out their profile. Rather than introducing themselves with pictures. they draw self-portraits, emphasizing the difference between the authentic self and the represented self.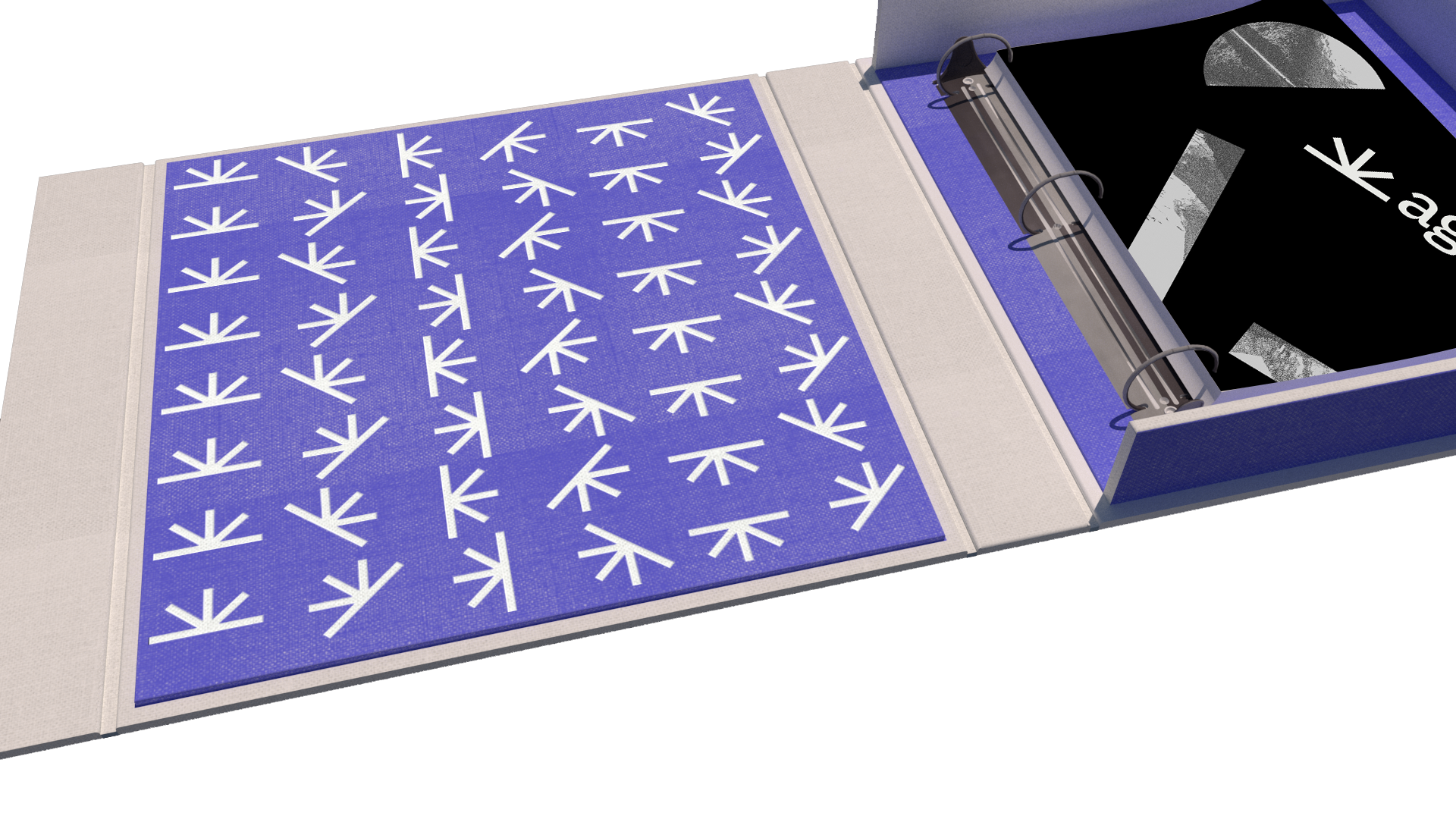 ---
---